What you need to know to help fearful dogs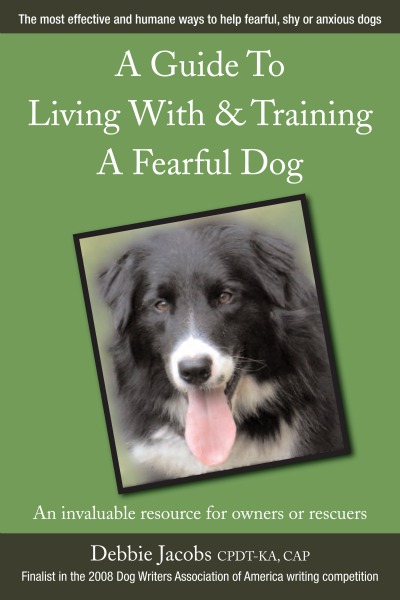 Practical information and resources for owners, shelter workers and rescuers of fearful dogs. For dogs who are fearful of people, other dogs, objects or situations. This book will help handlers understand how to work with dogs that are shy, anxious or aggressive due to fear.
While volunteering at the Humane Society of Louisiana's Camp Katrina after the hurricanes of 2005, Debbie Jacobs met Sunny, a border collie mix rescued from a large hoarding site. She had him transported to her home in Vermont, where he spent the first month cowering in a corner. Thus began the journey of helping Sunny escape from his fears.
It was a journey of discovery for Jacobs too.
She learned that changing a dog's fear-based behaviors often begins by changing the way we think about the dog. She learned to change her expectations and see Sunny for who he was, not who she thought he should be. And she discovered the most effective and humane ways to help him and other dogs like him.
Share her journey of change and discovery and learn how you can help your shy, anxious and fearful dog develop the skills and confidence to thrive.
This is the first book anyone with a fearful, shy or anxious dog should read and everyone who works with dogs should add to their library.
This is book trailer.
NOW AVAILABLE IN SPANISH!
Available in three formats
---
eBook in PDF format $14.95
You will receive an email with a link to download a PDF copy of the book immediately after payment.
---
Paperback $16.99 & s&h (sales taxes will be applied to purchases made in Vermont)
Shipping & handling in the U.S. is $3.99
---
Special offer! eBook (PDF) & paperback $21.99
Shipping & handling in the U.S. is $3.99
---
Choose from a variety of eReader formats
---
Phone Consult & eBook
You can schedule a phone consultation with the author of A Guide To Living With & Training A Fearful Dog to discuss ways you can help your dog feel more comfortable in the world and the skills you need to make it happen. A 1 hour consult is $95 and includes a free download of the ebook in PDF format.
---
For orders outside the U.S. please contact us.
---
What others have to say about this book
"I've had the pleasure of being able to watch Sunny and Debbie's relationship struggle, develop and grow over the years. It's been quite a ride! They have changed each other's lives (and brains) in so many ways and in this book Debbie brings all of her hard-won experience together to help others help dogs like Sunny. I raise my squeaky mouse to them both!" Debra Theriault, CPDT-KA
"As the owner of a fearful dog and longtime reader of Debbie Jacobs' Fearful Dogs blog, I am very pleased that she has gathered her astute observations together in a book. Jacobs is not only smart but wise as well as humorous and empathetic. All these qualities shine through in an eminently readable and useful book. Even if you don't have a fearful dog, you'll learn a lot about dog training and dog psychology from her." Edie Jarolim Author: AM I BORING MY DOG (Alpha/Penguin) and blogger at http://willmydoghateme.com
"I feel like you have given me a roadmap with real directions to a destination." Cynthia Kingsley, caretaker of shy dog Bunny
"This book is awesome and so needed. It's a fantastic resource for both professional dog behavior counselors and owners of fearful dogs alike. It's remarkably thorough and full of helpful words of wisdom. I'm thrilled to see such practical information laid out in a readable, accessible format. It's full of wonderful analogies. This book provides empathetic insight from both ends of the leash addressing fears and frustrations with a refreshing dose of frankness and sensitivity. Debbie has managed to be both beautifully compassionate and yet firm in her beliefs, ever the advocate for the fearful dog." Kelly Dunbar, Editor of DogStarDaily.com & President of Open Paw, a non-profit dedicated to keeping animals in their original homes and out of shelters.
These words changed the world of dog training for me. 
Find out how these three simple words can change everything for you too.